Ten Thousand Words - February 2019
Apparently, Confucius didn't say "One Picture Worth Ten Thousand Words" after all. It was an advertisement in a 1920s trade journal for the use of images in advertisements on the sides of streetcars. Even without the credibility of Confucius behind it, we think this saying has merit. Each month we share a few charts or images we consider noteworthy.
This month, we observe earnings expectations for ASX listings drift into the February reporting season; Nomura shows us how US equities have performed after dropping at least 17.5% (they have performed well); Merrill Lynch's February fund manager survey shows the biggest allocation to cash since 2009; Merrill also shows us big things are ahead for the "Internet of Things", while from Goldman Sachs we get a look at
the scale of the leading public cloud operators relative to their growth rates; and finally we take a look at venture capital deal activity courtesy of KPMG (and find that angel/seed deal volumes have declined progressively since peaking in early 2015).
ASX earnings expectations drifting into February 2019 reporting season
Source: Sentieo, Equitable Investors
Cumulative S&P 500 returns from the the index being down at least 17.5% over 67 day time period
Source: Nomura
Rotation into cash - the percentage of asset allocators saying they are overweight cash
Source: BofA Merrill Lynch Global Fund Manager Survey
Growth in ETFs in the US - Assets Under Management hit $US3.63 Trillion in January 2019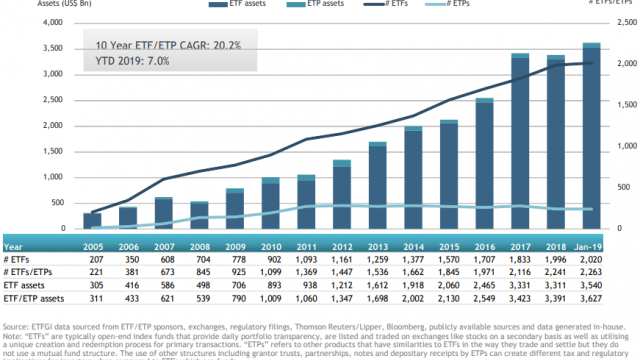 Public Cloud Players - Last twelve months' revenue v annual growth rates
Internet of Things - connected device forecast
Source: ARM, BofA Merrill Lynch
Global venture funding deals
Global median venture deal size ($USm)