Ten Thousand Words - January 2019
Apparently, Confucius didn't say "One Picture Worth Ten Thousand Words" after all. It was an advertisement in a 1920s trade journal for the use of images in advertisements on the sides of streetcars. Even without the credibility of Confucius behind it, we think this saying has merit. Each month we share a few charts or images we consider noteworthy.
This month, a massive outflow of funds from global equities in late CY2018 was highlighted by Paul Moore of PM Capital and Blackrock backs this up with an estimate of the impact of uncertainty on US equities; Morgan Stanley shows that none of the key asset classes bettered inflation in CY2018; Blackrock looks at previous periods in which "value" stocks have under performed and Equitable Investors concludes that the value end of its Australian equities universe (Financial, Industrial and Technoogy - FIT - stocks with market caps of $10m to $5 billion) did indeed have a tough CY2018.
Record equity outflows (published early Jan 2019)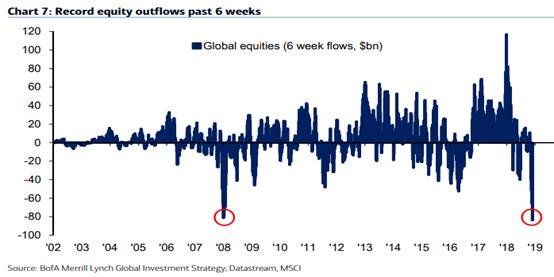 Source: PM Capital, BofA Merrill Lynch
Estimating the impact of uncertainty on equities
Source: Blackrock
Asset class returns relative to inflation
Source: Morgan Stanley
Past periods in which "value" has under-performed the market
Source: Blackrock
Most expensive third of Equitable Investors' "FIT" universe did the best in CY2018
Source: Equitable Investors